POWER-SWITCH MULTISYSTEM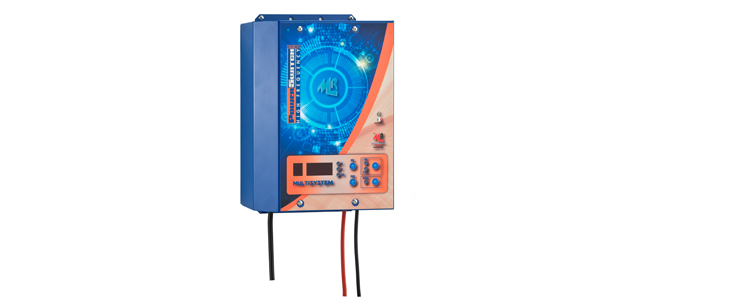 The MULTISYSTEM is a battery charger able to recharge any kind of battery (both traction and starting, both sealed and lead acid) .
It is easily programmable through the keyboard and the display.
The operator sets three charging cycle parameters ("IU" cycle):
maximum battery voltage during the charging phase
constant current
time (max. 50 hours)
It offers great flexibility advantages:
it is possible to "refresh" full pallets, connecting them in series or in parallel, according to customer preferences
it is possible to recharge 6V, 8V, 12V, 24V, 36V, 40V, 48V batteries and any intermediate voltage value
it is possible to use it as a replacement for other battery chargers (KEYBOARD BLOCK function)
it can be easily carried to the customer in order to try to recover "sulphated" batteries
Single-phase supply:
correct charge level even when supply voltage fluctuates from 185V to 265V; frequency 50/60Hz
Two models are available:
code: PSW.MS.1
- programmable voltage: from 6V to 32V
- programmable constant current: from 3A to 40A
code: PSW.MS.2
- programmable voltage: from 12V to 64V
- programmable constant current: from 3A to 30A
Dimensions: 295 x 220 x h 110 mm
Weight: 4,5 kg
It is supplied with battery connection-pliers and instruction handbook with hints on how to use it.